CryoBac 193
Your Unseen Health Protector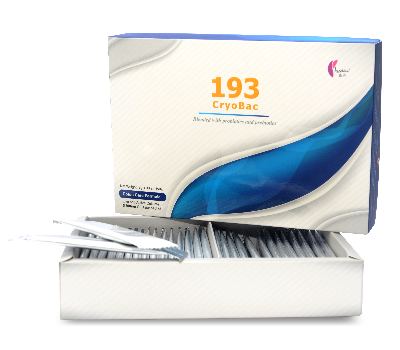 Probiotics are little GUARDs for health that occur naturally inside human body! Stress, drug abuse, antibiotics, inadequate exercise, poor diet and unhealthy lifestyle like smoking and drinking alcohol cause of gut flora imbalance! This leads to harmful bacteria becoming excessive and toxins will start to accumulate. A toxic body environment leads to a series of underlying disease, e.g. obesity, indigestion, constipation, diarrhea, colitis and even cancer! Hence, supplementation of probiotics is no longer a luxury but a need in these days of prevalent toxins!
| | |
| --- | --- |
| 1 | - The only 1 in the world manufactured using Europe patented Cryo-Bac Pro-active technology |
| 9 | - 9 strains of proprietary probiotics from human origin |
| 3 | - 3 target zones (Stomach; Intestines; Colon) |
Maintain the balance of intestinal flora
Reduce gastro-intestinal discomfort and constipation
Prevent Candida Infections and promote genital health
Suppress the growth of harmful bacteria
Strengthen immune function
Aid in digestion and nutrient absorption

Why CryoBac 193?
Colon Care New Formula – Probiotics and prebiotics blends!
Specially selected from human colostrum, the body's first and most suitable probiotics!
Enhanced Count – Pro-Active 5 Billion CFU Probiotics!
Proven Stability – Resistant to gastric, bile acid, high temperature!
Added with prebiotics, stimulate the growth and survival of probiotics in the gut!
Enhanced with dietary fiber, stimulate intestinal peristalsis!
100% natural, safe and effective and convenient on-the-go sachets!
Probiotics, Pectin, Inulin, Polysaccharides, Celery Powder, Barley Powder, Fructooligosaccharides (FOS), Aloe Vera Juice Powder, Lemon Juice Powder
(2g x 30 sachets)
Take 1 sachet daily, mix with warm water or juice and consume. It is best taken before meal.