Crown Gamat
Health & Beauty Starts From Within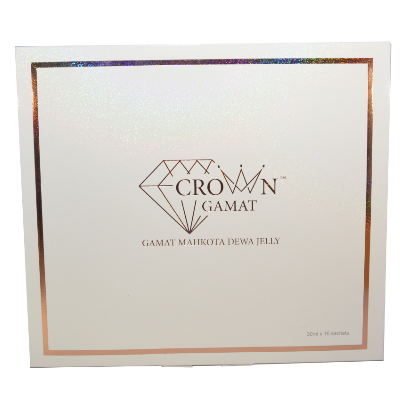 Crown Gamat Jelly, is made from two nutritious ingredients from sea – Golden Sea Cucumber and land – God's Crown fruit, resulting in a good combination formulation. Using our proprietary extraction technology that delivers more benefits, our product comes in a never-before refreshing jelly form. It is a natural health supplement food for all!
MAL16100048T
KKLIU no.: 2936/2020
This is a traditional product advertisement.
Download Information for Crown Gamat
Download Crown Gamat Flyer (New Packaging)
Promotes wound healing -
contains cell growth factors that can help in cell regeneration and improves self-healing capabilities.


Enhances beauty –
rich in collagen, essential in maintaining the elasticity of skin and slows aging process.


Alleviates skin problems –
contains anti-histamine properties which works well in healing allergies, alleviates rashes and itchiness.


Maintains bone & joint health –
contains glucosamine, chondroitin and anti-inflammation properties to repair and reduce joint pain.


Improves "3 high" problems –
contains mucopolysaccharides, helps to improve blood circulation and regulates blood pressure, blood glucose, cholesterol and triglycerides levels.


Strengthens immunity –
contains saponins, antioxidant and anti-microbial properties, helps to boost immune system and prevent cancer.


Improves brain health –
rich in DHA (Omega 3) which helps to enhance the brain and nerves functions, increase ability to learn and memories.


Health tonic –
contains various minerals and phytonutrients which help to promote growth/development and anti-aging.
There are 10 good reasons why you should choose Crown Gamat Jelly:-
Uses the most premium quality of ingredients
- 100% golden sea cucumber and God's Crown fruit (Mahkota Dewa)


The best health tonic food to improve health
- Combination of two of the most nutritious superfood with super healing powers from the land and sea


New innovative consumption presentation
- Transcend from traditional liquid form to brand new innovative jelly form


Extract using advanced technology
- Uses fermentation bio-technology and hydrolysis technology


Small molecular size, better absorption
- Increases the absorption and assimilation rate in the body


High concentration, more effective!
- Active ingredients up to 250%, higher than other brands in the market


Complies to GMP standard
- Manufactured under stringent standard and quality


Assured food quality
- Tested by accredited food laboratories Malaysia and Singapore


No fishy smell, taste great!
- Flavourful taste, suitable for adults and children


Affordable, easy and convenient!
- Jelly strips, easy to carry and consume
Stichopus Variegatus Extract and Fructus Phaleria Macrocarpa Extract
(30ml x 16 strips)
Take 1-2 strips daily on an empty stomach.