Crown Gamat Birdnest Peptide
Health & Beauty Starts From Within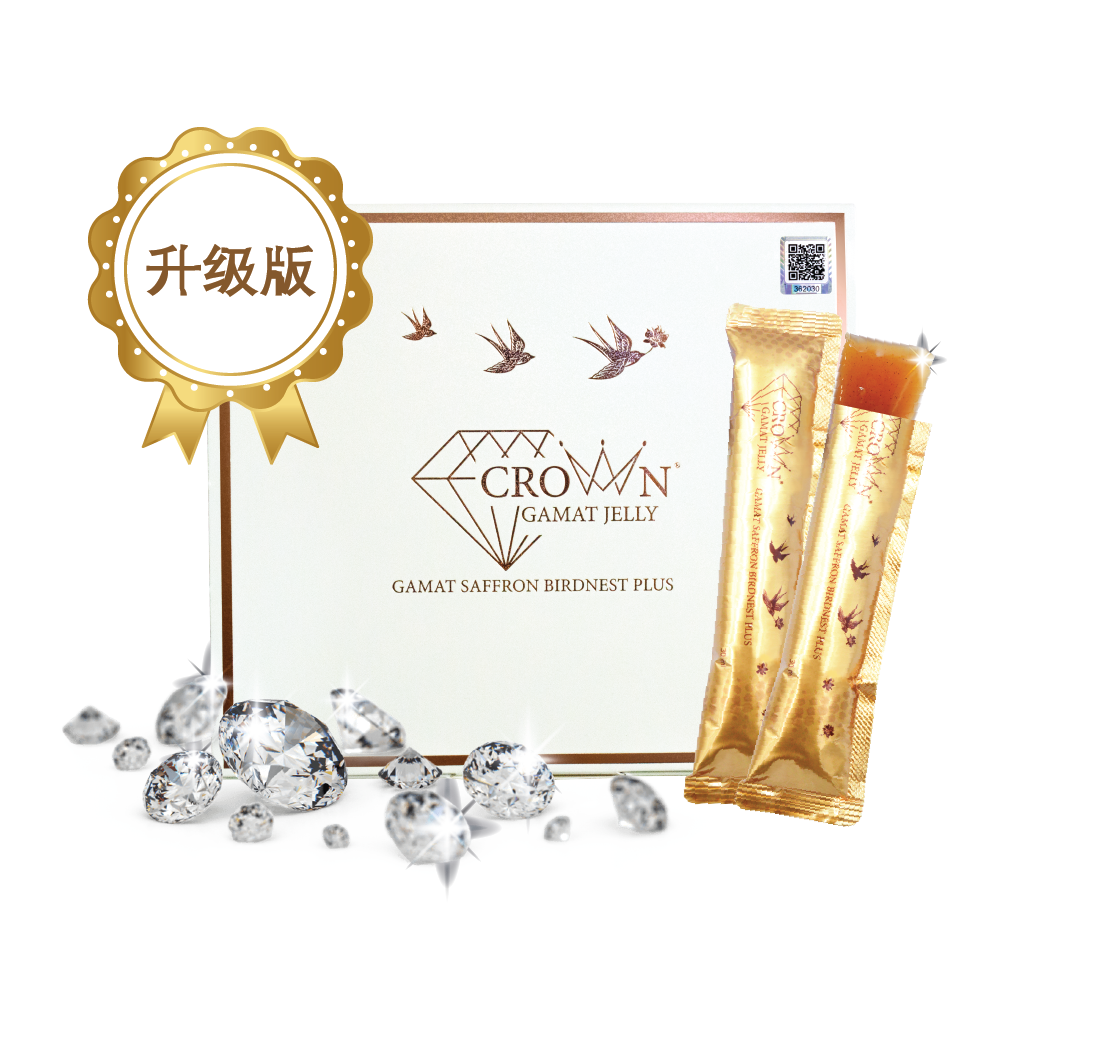 Crown Gamat Birdnest Peptide is made from 7 types of unique and highly nutritious 'superfoods' both from sea – Golden Sea Cucumber Extract and land – God's Crown fruit, exGrape® Grape Seed Extract, Bird's Nest Extract, Saffron Extract, Vitamin C and Honey, resulting in the most perfect powerful health and beauty-restoring formulation.
Using our proprietary extraction technology that delivers more potency, our latest product comes in a never-before refreshing jelly form Crown Gamat Birdnest Peptide is the first of its kind natural health supplement and it also an amazing beauty product that restores perfectly youthful skin!
MAL21106137T
KKLIU no.: 2936/2020
This is a traditional product advertisement.
Health & Beauty Treasure
10 Health Benefits
Good for joints & bones
Aids calcium absorption
Improves circulation
Prevents "3 high" problems
Good for digestive health
Good for brain health
Strengthens immunity
Disease resistance & anti-cancer
Promotes wound healing
Alleviates skin problems


10 Beauty Benefits
Firm skin
Brightens skin
Rejuvenates skin
Hydrates skin
Soothes dry skin
Reduces wrinkles
Restores skin
Delays aging
Nourishes hair
Breast firming


Promotes wound healing
- contains cell growth factors that promote cell regeneration and improve self-healing capabilities.
Enhances beauty
– rich in collagen, essential in maintaining the elasticity of skin and slows aging process.
Alleviates skin problems
– contains antihistamine properties which works well in healing allergies, alleviates rashes and itchiness.
Maintains bone & joint health
– contains glucosamine, chondroitin and anti-inflammation properties to repair and reduce joint pain.
Improves "3 high" problems
–contains mucopolysaccharides, helps to improve blood circulation and regulates blood pressure, blood glucose, cholesterol, and triglycerides levels.
Strengthens immunity
– contains saponins, vitamin C, antioxidant, and anti-microbial properties, helps to boost immune system and prevent cancer.
Improves brain health
– rich in DHA (Omega 3) which helps to enhance the brain and nerves functions, increase ability to learn and memories.
Health tonic
– contains various minerals and phytonutrients which help to promote growth/development and anti-aging.
There are 10 good reasons why you should choose Crown Gamat Bird nest Peptide:-
Uses the most premium quality of ingredients
100% golden sea cucumber Extract, God's Crown fruit (Mahkota Dewa) Extract, exGrape® Grape Seed Extract, Bird's Nest Extract, Saffron Extract, Vitamin C and Honey
The best health tonic food to improve health
-Combination of 7 types of the most nutritious superfoods with super healing powers from the land and sea
New innovative consumption presentation
-Transcend from traditional liquid form to brand new innovative jelly form
Extract using advanced technology
-Uses fermentation biotechnology and hydrolysis technology
Small molecular size, better absorption
-With 6000mg collagen peptide in each strip, increases the absorption and assimilation rate in the body
High concentration, more effective!
-Active ingredients up to 250%, higher than other brands in the market
Complies to GMP standard
-Manufactured under stringent standard and quality
Assured food quality
-Tested by accredited food laboratories Malaysia and Singapore
No fishy smell, taste great!
- Flavourful taste, suitable for adults and children
Affordable, easy, and convenient!
- Jelly strips, easy to carry and consume
Stichopus Variegatus (Sea Cucumber) Extract
Fructus Phaleria Macrocarpa (God's Crown fruit/Mahkota Dewa) Extract
Vitis Vinifera exGrape® (Grape Seed) Extract
Saliva Aerodramus Fuciphagus (Bird's Nest) Extract
Corocus Sativus (Saffron) Extract
Vitamin C and Honey
(30ml x 16 strips)
Take 1-2 strips daily on an empty stomach.