WOW! Collagen Jelly
Regain Young Skin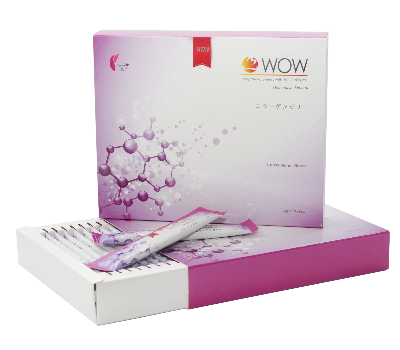 Overview
It is a fact that our skin interfaces with the environment and thus, it serves as our lifetime protective cover. Even though our skin is subjected daily to the harsh elements, many of us seem to be surprised when signs of aging start to appear on the skin. For women, they will always desire a radiant, bright and supple appearance whilst men would be very proud of skin that is vibrant and glowing with life!
When aging sets in, the skin seems to be more vulnerable to environmental factors such as radiation, dust, air pollution etc, causing scars and marks to form easily and permanently. Additionally, an imbalanced diet and lifestyle; excessive alcohol intake etc., will hasten skin aging, making it lose its elasticity and radiance; poor skin texture, pigmentation and so on.
Insaan WOW! Collagen Jelly stands out from other collagen products in the market. It has undergone stringent controls from formulation and selection of raw material to production and packaging. So you get absolute absorption and efficacy, as well as a flavour and experience that you will simply love! Insaan WOW! Collagen Jelly definitely works to bring about a reversal of the signs of aging!
The Effect of WOW*
07-Day Skin more hydrated, fairer and smoother
14-Day Smaller pores, reduction in fine lines
28-Day Elastic, supple and lighter pigmentation|
60-Day Skin becomes firmer with better radiance and brightness
90-Day Reversal in aging process is observed
*continue supplementation of 2 strips a day


Download Information for WOW! Collagen Jelly